Women's incontinence underwear with amazing underwear-like look & feel
Beautifully discreet, TENAs range of women's incontinence underwear are secure against urine leaks and odour. The feminine bladder weakness panties come in different styles, colours and sizes with freedom to match with clothes and occasions. The ideal solution for women with bladder leakage. Just like underwear. Protects like TENA.
Product benefits
Discreet Protection adapted to the female body
High security with absorption materials where it is most needed
Fresh Odour Control. Advanced micro fresh pearls reduce the development of odour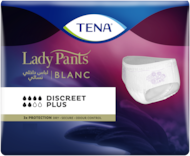 Just like underwear. Protects like TENA. Low waist underwear designed for moderate to heavy bladder weakness.